Advancement
The district advancement committee implements procedures that help achieve BSA advancement procedures. The committee helps Cub Scout packs, Boy Scout troops, Varsity teams, and Venturing crews succeed. Units help youth members advance in rank. If they advance, they will have a good experience and will grow in their Scouting adventure.
Merit Badge Counselors
The District now has a list of registered merit badge counselors. Should you have a particular need we may be of assistance.
For more information, please contact the Advancement Committee at: advancement@northshoredistrict.org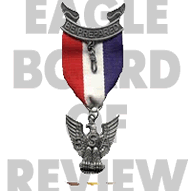 Life to Eagle Process
You have completed your Life Rank and are now ready to prepare for your Eagle.  Your Scoutmaster / Unit Leader and or Life to Eagle coach are available to mentor you.  With the following 12 steps you will be able to accomplish your goal for Eagle.
Complete the other requirements for Eagle. Please refer to the Eagle Scout Rank Application   Review the "Age Requirement Eligibility" section of the application. Compliance is critical!
In parallel download and carefully review the Eagle Scout Service Project Workbook   Review the Keys to a Successful Eagle Project below.  Develop ideas for your Eagle Service Project.
Complete the "Project Proposal" and "Project Fundraising Application" sections of the Workbook once you have selected a beneficiary.  Secure the approval and signatures from the Benefiting Organization, your Scoutmaster / Unit Leader, and Committee Chair.
Contact your District Advancement Committee to review your Project Proposal and Fundraising Application and secure their approval and signature. All signatures must be on the same copy of your Workbook.   You may reach the North Shore District Advancement Committee at: advancement@northshoredistrict.org
Complete in detail the "Project Final Plan" section of your Workbook in consultation with the Beneficiary Representative and Scoutmaster / Unit Leader and or Life to Eagle coach.
Complete your project.
Complete the "Service Project Report" upon completing your project and secure the signatures of the Benefiting Organization and your Scoutmaster/Unit Leader.
When all Eagle requirements including the service project have been completed, complete the Eagle Scout Rank Application.   Request the people you name in requirement 2 on your Eagle Application send a letter of recommendation to your Committee Chair. These letters must remain in the sealed envelop and be opened at your Board of Review. If someone neglects to write a letter it is ok.   Prepare and attach a statement of your ambitions and life purpose with a listing of all positions held in your religious institution, school, camp, community or other organizations in which you demonstrated leadership skills. Include any honors and awards received during this service.
Take part in a Scoutmaster / Unit Leader conference. This must be completed before your 18th birthday.
Take your completed Eagle Application with your Project Workbook and Life Purpose Statement to the Council Office at 12500 North IH 35 for verification. Make sure your records on Internet Advancement are up to date. Council verifies your advancement and merit badges.
Once Council has verified and signed your application they will send an email to the District Advancement Committee with a copy to you acknowledging you are ready for your Board of Review. If you left your information at the Council office you will need to pick it up.  The District Advancement Committee will set the date and time for your Eagle Board of Review and will send you an email with a checklist of what you need to do.   When you arrive for your Board of Review, you should be dressed in your class "A" uniform including your merit badge sash.  Bring your Scout Handbook, Project Workbook, Eagle Application, and Life Purpose Statement.   Your Committee Chair should bring your letters of recommendation. The letters will be opened and reviewed by the Board of Review members only. If someone neglects to write a letter it is ok.  this is the highest award you may achieve and, consequently, a thorough discussion of your successes and experiences in Scouting will be considered. After the review, you and your Scoutmaster / Unit Leader leave the room while the board members discuss your candidacy. After a brief discussion the Board will provide you with their decision.
After the board of review you return your application and service project workbook to the Council office at 12500 North IH 35. Be sure to keep a copy.  Your application is forwarded to the National Scout Office. You will receive an email when Council receives the Eagle Scout certificate and it is available to be picked up. The date used on the certificate will be the date of the board of review. The Eagle Scout Court of Honor can now be scheduled.
KEYS TO A SUCCESSFUL EAGLE PROJECT
Scouts working on their Eagle Project should carefully read the Workbook.
Not following guidelines may require you start over with a new project.
What NOT to do:
Work on your project (

including fund raising

) before securing ALL approvals.
Projects for BSA, including troop or council property. (Charter organizations are acceptable)
A project that another Scout is using or has recently used for his Eagle project.
Projects involving only routine labor.
(An exception may made if the project has a significant scale or impact)
Projects for profit-making organizations. For example:
Change beneficiaries or the complexity of the project without securing approvals
Painting the clubhouse for a home-owners association
Doing landscaping or physical improvements for a business
What to do:
Consult with your Scout leader while selecting, planning and completing your project.
Choose a beneficiary you are passionate about.
Choose a project that makes life better for others and you are proud of.
Your project must allow you to demonstrate creativity, planning, and leadership of others.
Carefully plan your work and then work your plan
Use the patrol method of leadership
Use a calendar and develop an action plan with specific dates for completion.
Carefully review and fully complete the Eagle Scout Project Workbook.Additional Resources:Capitol Area Council Eagle Websitehttp://www.bsacac.org/resources/awards_more/eagle_scout_infoThe Eagle Scout Application Processhttp://www.youtube.com/v/_YRRc8MyJaAEagle Scout Boards of Reviewhttp://www.youtube.com/v/6Mx8L34uz5Y

National Eagle Scout Association